Experience Okotoks Golf
To book a tournament call Barb at (403) 938-5522.
D'Arcy Ranch has been hosting corporate and charity golf tournaments for over 20 years. With about 3,000 events under our belt, we're confident we can design a tournament to fit your needs and desires. If this is your first attempt at running a tournament, there's no need to worry. We can walk you through all the details - even if you don't golf!
When you're planning an anniversary, birthday, retirement, company banquet or other special event, D'Arcy Ranch can help you create a memorable evening with great food and exceptional service. Just let us know what you're planning and we can put together a night to remember.
Weddings
Weddings at D'Arcy Ranch are special for all the staff. We look forward to celebrating this special day with the bride and groom and their guests. Our front house manager pays particular attention to all the details to ensure the evening runs smoothly and stress free.
To book a business event call Barb at (403) 938-5522.
Planning a business meeting, seminar or conference? With or without golf, a D'Arcy Ranch meeting room package can provide an inspiring environment for your next business event.
Meeting Room Package
Package includes:
Continental Breakfast
Coffee/Juice Station
Lunch
Guest Fee
Power Cart
Prize Fund
Western Steak and Rib Dinner
Driving Range and Practice Facility
Cost:
$177.40 per person (with golf - no room charge)
$81.00 per person (without golf, cart or prize fund - room charge $300)
(prices may vary with different menu options)
GST and Gratuity included
Ask Us About:
Rentals Extra
Group Lessons
NOTE: Dress Code in Effect - NO BLUE JEANS
Clyde's Corner (Snack Bar)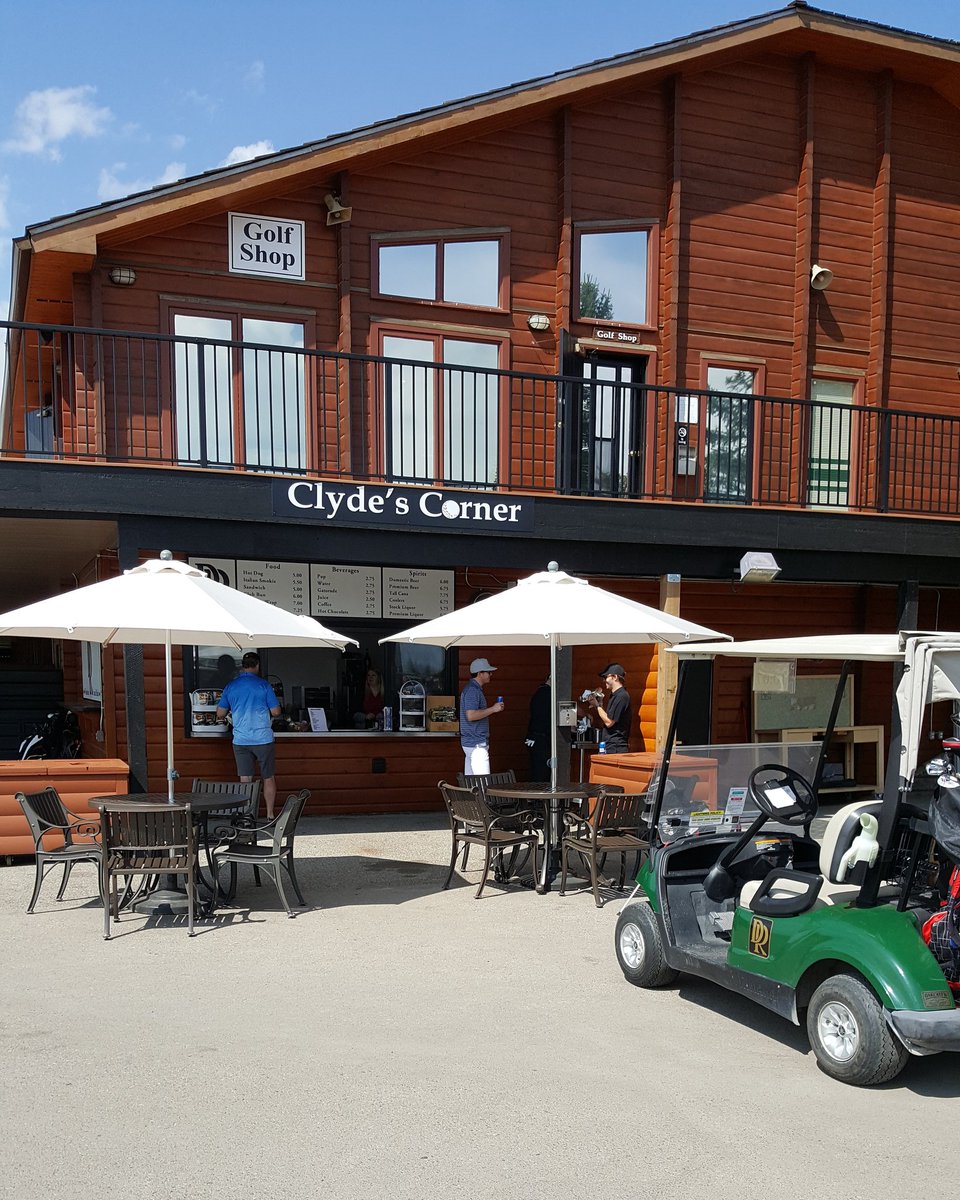 Grab a cold beverage or a healthy snack before, during, or after your round.
Chicken Wrap
Lettuce, Bacon, Bell Peppers Chicken and Cheese tightly wrapped in a Soft Tortilla Wrap.  Best if it is in the microwave for 10 seconds!
Club Bun
Lettuce, Chicken, Ham, White Cheddar Cheese on a Pretzel Bun. $6
Sandwiches
Ham and Cheese, Roast Beef, Tuna and Egg Salad $5
Tall Cans -$7.75
Coors Light, Hard Knox Dusty Trail, Hard Knox Grunt Work, Village Blacksmith, Steam Whistle and Stiegl Radler
Cold Beer
Kokanee, Budweiser and  Bud Light $6
Coors Banquet, Keith's and Corona $6.75
Coors Light, Hard Knox Dusty Trail, Hard Knox Grunt Work, Village Blacksmith, Steam Whistle and Stiegl Radler- $7.75
Cold Coolers and Cider
Twisted Tea, Motts Caesars and Smirnoff Ice- $6.75
Pop Shoppe Cream Soda and StongBow -$7.75
Snacks
Jerky $6.75, Chips & Nuts $2, Chocolate Bars $1.75, Pepperoni $1.25, Power Bars $2.50
Freshly Made for You
Banana Bread $1.75, Brownie $3.50, Rice Krispy Square $4.75, Puffed Wheat Square $3.25
Healthy Snacks
Veggie & Dip $6.25, Fruit & Yogurt $5.50, Fresh Fruit Cup $2.00
Smokies and Hot Dogs
Smokie with all the toppings  5.50 Regular Hot Dog with all the toppings $5.00